Hi! My name is Margaret Martin and I am a Physical Therapist with over 37 years of clinical experience. My expertise is in the treatment and prevention of osteoporosis through evidence-based therapeutic exercise, safe movement and fall prevention.

For the last 15 years, I have concentrated on bone health and have treated thousands of patients for their osteoporosis, osteopenia and low bone density.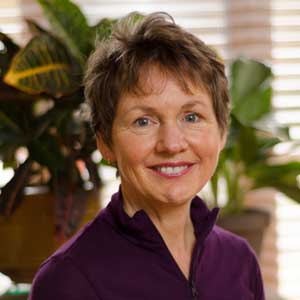 My experience treating patients with osteoporosis and teaching Physical Therapists on osteoporosis prevention and treatment has allowed me to:


Write and publish three books on osteoporosis and exercise.
Publish a number of streaming home workout videos on flexibility, balance, aerobics, and yoga.
Create an osteoporosis exercise video DVD.
Produce a 15 hour continuing education course for Physical Therapists and other health professionals on the prevention and treatment of osteoporosis.

I am trained in manual therapy, myofascial release, ergonomics for home and work, trigger point therapy release, exercise prescription, Yoga and Nordic Walking. I have practiced Physical Therapy in California, British Columbia and Ontario.
Education


School of Physical and Occupational Therapy at McGill University in Montreal, Canada. I graduated in 1984.


Physical Therapy Licensing


College of Physiotherapists of Ontario
Physical Therapy Board of California
Professional Awards


Published Books by Margaret Martin


I have published three books on osteoporosis and exercise. All books are available on Amazon in both print and Kindle formats.


Exercise for Better Bones. Exercise for Better Bones has over 100 reviews on amazon.com, amazon.ca and amazon.co.uk with 5 star rating. Used by thousands of individuals worldwide.
Yoga for Better Bones. Designed for yoga students and practitioners concerned about bone health but want to continue practicing their yoga mindful of their bones.
Strengthen Your Core. Unfortunately, core strength is often overlooked in most exercise programs. It is essential to fall prevention and balance but needs to be practiced safely by the older adult.

Published Videos by Margaret Martin


I produced a number of safe and effective exercise video workouts for the aging adult.


Stronger Bones, Stronger Body DVD (a 90 minute workout video DVD on safe exercise for people with osteoporosis) on amazon.com
Yin Yoga for Osteoporosis
Balance and Fall Prevention Exercises
Aerobic Exercises for Osteoporosis. Season One.
Aerobic Exercises for Osteoporosis. Season Two.

Continuing Education Training for Physical Therapists on Osteoporosis
As well as offering online continuing education courses for health and fitness professionals, I have conducted workshops and personally trained thousands of Physical Therapists in Canada and the United States on the prevention and treatment of osteoporosis. The following is a sample of the hospitals, clinics and institutions where I have trained Physical Therapy, Physicians and other health professional staff:


Jewish General Hospital, Montreal, Canada, 2016
Charles Lemoyne Hospital, Montreal, Canada, 2013
Charles Lemoyne Hospital, Montreal, Canada, 2012
Ottawa Hospital Rehabilitation Centre, Ottawa, Canada, 2012
Bruyere Hospital, Ottawa, Canada, 2011
Genesis Rehab Services, Multiple locations, 2010
Osteoporosis Canada, Toronto, Canada, 2009
West Carleton Family Health, Ottawa, Canada, 2007

Press, News and Guest Blog Posts by Margaret Martin


I have been interviewed by a number of online and print publications on the topic of osteoporosis and bone health. Here is a sample:


When Exercising Becomes a Hazard, Toronto Star. 2009
Osteoporosis Defence Begins in Teenage Years, Toronto Star. 2009
Exercise and Osteoporosis, Dr. Rebecca Risk Podcast. 2018
Falling Through the Cracks, Voice America
How to Fight Osteoporosis and Build Stronger Bodies, Senior Rehab Project Podcast. 2017
Osteoporosis Awareness, CTV Ottawa Morning Live.
Physical Therapy and Osteoporosis, Physiospot
Quality of Life and Osteoporosis, Physiospot
A New Treatment Protocol for Osteoporosis, Physiospot
The Future of Physical Therapy, Physiospot
Exercise and Aging Well, Physiospot
Presentations


Ontario Physiotherapy Association Annual Conference. Overview of the American Physical Therapy Association (APTA) Certified Exercise Expert for the Aging Adult training program. 2011
Canadian Physiotherapy Association. Working with Osteoporosis. An exercise program designed for the independent adult to improve bone density and reduce fall risk. 2007

Scientific Research



Professional Leadership


I have held several professional leadership roles with Physiotherapy and Fitness Training professional organizations.


President of the Ontario Provincial Division of the National Strength and Conditioning Association (NSCA). 2008.
President of the Central Toronto District of the Ontario Physiotherapy Association (OPA). 1990.
Vice President of the Central Toronto District of the Ontario Physiotherapy Association (OPA). 1989.

Citations for Margaret Martin


My work in Physical Therapy and osteoporosis has been recognized by academics and other health professionals. Two recent published text books cite my work.


Comprehensive Guide to Geriatric Rehabilitation, 3rd Edition, by Timothy L. Kauffman PhD PT


Dr. Kaufman's clinical guide is designed for busy health care practitioners and covers a wide range of topics related to geriatric rehabilitation. On page 176 in chapter 25,
Orthopedic Trauma
, Chris Metzger and Mark Lombardi refer to my course Working with Osteoporosis and Osteopenia: Part A. They specifically refer to "postural exercise should include activities of the
shoulder and scapulae
to ensure overall strengthening and spinal stability."
Client-Centered Exercise Prescription, 3rd Edition, by John C. Griffin


John C. Griffin has written a client-centered exercise prescription theory and application book that is used both as a resource by health and fitness professionals and as a textbook for kinesiology and Physical Therapy courses.


Golf Performance Training: … What They Won't Tell You. by Gary Bannister, M.Ed


Gary Bannister has written a book,
Golf Performance Training
, on how proper strength training can aid your golf game. In his book, he reference material I have written on strength training.
Yoga in the Music Studio, by Leslie McAllister


Educational Training and Professional Self Development


My aim is to provide the highest level of Physical Therapy service to my patients. As a result, I invest a lot of time and effort into my own continuing education, training and professional self development. Here are a sample of the continuing education courses I have completed by major category.


Physical Therapy for Osteoporosis Educational Training


Physiotherapy for Bone Health: Our Role in the Prevention and Management of Osteoporosis. Dr. Meena Sran, University of British Columbia, 2012
Certified Exercise Expert for the Aging Adult – Part 1 and 2
American Society of Bone Mineral Research Annual Conference, Montreal, QC, October 2018
American Society of Bone Mineral Research Skeletal Health
National Osteoporosis Foundation 7th Annual Osteoporosis Conference
National Osteoporosis Foundation 8th Annual Osteoporosis Conference
Osteoporosis Canada Symposium
World Physiotherapy Congress Prevention and Management of Osteoporotic Fractures
Osteoporosis: A Comprehensive Treatment Strategy

General Physical Therapy Educational Training


The Thorax — Connect the Whole Body & Optimize Performance, Kitchener, ON. June 2019
Visceral Manipulation
Vestibular Rehabilitation
John Barnes Myofascial Training

Myofascial Release Level I, Ottawa, ON.
Myofascial Release Level II & Myofascial Unwinding, Cape Cod, MA.
Fascial Pelvis, Buffalo, NY.
Myofascial Skill Enhancement Workshop, 40 hours Sedona, AZ

Diagnosis & Treatment of Movement System Impairment Syndromes, Lower Quarter. Shirley Sahrmann
Diagnosis & Treatment of Movement System Impairment Syndromes, Level 1. Shirley Sahrmann
Supportive Conversation for individuals with Aphasia
Advanced Physical Therapy Lumbo — Pelvic Complex Certification Program, APTEI, Bahram Jam
Urban Poling/Activator poles Instructor
APTA Sport Division – Team Concept Conference
Lumbo-pelvic Motor Control: Advanced Clinical Assessment and Treatment of Motor Control Dysfunction in Low Back Pelvic Pain, Paul Hodges
Clinical Reasoning: Understanding the Problem and the Person through "diagnostic" and "narrative" reasoning, Mark Jones
Orthopaedic Symposium
IDEA Conference NYCSWIS Weight Training SymposiumScientific Core Training (Correspondence)
Scientific Back Training (Correspondence)
Program Design: Choosing Reps, Sets, Loads, Tempo and Rest (Correspondence)
Movement Dysfunction, Kinetic Control
Basic Bobath – 3 week course
Running Room – Running Shoe Workshop
Paul Chek on Functional Exercise and Training
Active Isolated Stretching with Aaron Mattes
Perform Better Functional Training Series

Yoga Teacher Training and Certification


Certified Yoga Instructor: 200 hour Yoga Teacher Training, 2012. Ottawa, Canada.

Professional Journey


Since 1984 I have dedicated myself to helping individuals, like yourself, achieve their highest level of function and fitness. I have worked at YMCAs, Yoga studios, hospitals, rehabilitation centres, community clinics, as well as industrial settings across Canada and the United States. Before I started MelioGuide, I owned two companies: Injury Reduction in the Workplace and Full Swing – Golf Performance.


About Margaret Martin


I am a high energy, caring person who practices what she preaches. My daily movements usually incorporates at least one of the following practices: Yoga, TaiChi, strength training, high intensity interval training, vigorous walks, and cycling. I consume a diet that is alkaline based with plenty of vegetables, locally farm-raised animal protein and legumes. And my passions include nutrition, gardening, and mindful, intelligent movement.
In 2016 I competed in a body building contest. This give me the opportunity to personally experience what it is like to truly build strength and manage your diet.


My most significant contribution to society has been creating two outstanding human beings, John and Katherine. I am blessed to have the support and wonderful company of my husband, Richard. I look forward to sharing another thirty years with him.